Welcome to the Federation of Private Residents' Associations
√ Do you manage or want to manage your block/estate?
√  Do you want to buy the freehold of your block/estate?
√ Do you want to change the managing agent?
√ Are you having problems with service charges?
√ Are major works a headache for you?
√ Are there any other issues you need help with?
FPRA CAN HELP.
WE WILL ANSWER YOUR QUESTIONS AND HELP SOLVE YOUR PROBLEMS
The Federation of Private Residents' Associations are a not-for-profit lease advice, support and lobbying organisation for private residential leaseholders, tenants' and residents' associations, Residential Management Companies and Flat Management Companies.
We are the national voice of residents' associations and are frequently consulted by government. Our leasehold advisory services are free to members, who pay an annual subscription fee.
The Federation of Private Residents' Associations (FPRA) is an independent organisation.   It does not endorse or recommend any products, service providers or companies.
The FPRA is able to offer its members specialist legal, insurance, management and building guidance. We represent and understand the interests of leaseholders seeking to set up a tenants' association, existing tenants associations (recognised or not) and resident management companies.
We publish a quarterly newsletter for members, as well as information guides and booklets, and keep members informed about current issues and events affecting leaseholders.
If you want to know our Campaign Issues,  download our leaflet (PDF) for further information.
Download  >>
LEASE
If  you are an individual solely looking for personal advice please click to link to the governments Leasehold Advisory Service (LEASE) LEASE Website  >>
Consultations
.
The FPRA respond to many consultations, an average of one per week is received in the FPRA Office. The responses can be seen on this website.
Consultations page  >>
.
New FPRA publication

. Running a Block of Leasehold Flats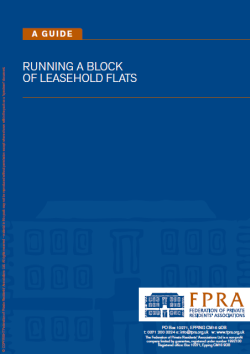 Running a Block of Leasehold Flats £17.50 (free to members)
[ISBN 978-1-910799-07-9]
A new guide to Running a Block of Leasehold Flats. Published July 2018. Available to download now.
Buy/Download Now >>
West Sussex Council improve recycling for flats
10th September 2018
FPRA Hon. Chairman Bob Smytherman, as a West Sussex local Councillor, was instrumental in promoting recycling in flats, shared houses and communal living spaces in the West Sussex area.
Read more… >>
Final Report Publication: Independent Review of Building Regulations and Fire Safety
17th May  2018
The final report of the Independent Review of Building Regulations and Fire Safety was published on May 17th. Read more…  >>
18th December 2017
Bob Smytherman FPRA Chairman says
"We welcome this interim report in to Fire Safety in blocks of Flats and look forward to working with Dame Judith and the enquiry team in 2018 to inform the final recommendations and ensure the voice of those RMC & RTM Directors who carry out responsibilities for Fire Safety in their own buildings is heard by Government"
Interim Report  >>
10th November 2017
Our Chairman Bob Smytherman was invited and attended a roundtable recently hosted by Dame Judith Hackitt, who has been appointed to head the Independent Review of Building Regulations and Fire Safety.   Read more here
FPRA  WELCOMES LAW COMMISSION REVIEW OF COMMONHOLD FAILURE
15th December 2017
FPRA Chairman Bob Smytherman  welcomed the Law Commission announcement that in their forthcoming programme of Law Reform, acknowledged that commonhold, has failed and that they will consider what reforms are necessary to the law to enable it to operate successfully.   FPRA has consistently pointed out to Government that the requirement under existing law, that every single leaseholder should agree to the conversion is in practice  impossible to satisfy.  In other situations, for example  an enfranchisement where the leaseholders buy the freehold so as to manage the  block of flats themselves, only a majority of leaseholders need to participate
Read more  >>
.
#Leasehold Hour
Join the FPRA and Flat Living on Twitter every Tuesday at 8pm to discuss all things Leasehold. Recently launched #LeaseholdHour is your opportunity to speak to other individuals and organisations with an interest in Leasehold, you can ask questions or follow the discussion for other relevant news.
To follow the conversation just search the hashtag #LeaseholdHour (or use the link  here) and when joining the conversation just make sure you use #LeaseholdHour on your tweets so that everyone can see them.

.
Annual membership fees 2019/20 – 2020/21
The annual membership fee is based on the size of the block and is typically less than £5 per flat per annum.  Revised fees apply upon renewal. There is a  £75 one off joining fee.
| | | |
| --- | --- | --- |
| | 2019/20 | 2020/21 |
| Up to 25 flats | £127.50 | £137.50 |
| 26 – 50 | £145.00 | £155.00 |
| 51 – 100 | £210.00 | £220.00 |
| 101 – 150 | £285.00 | £295.00 |
| 151+ | £335.00 | £345.00 |
.