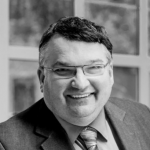 Bob Smytherman has been a committee member of the FPRA for over 15 years and became Hon Chairman in 2008.
He is currently a director of his own residents' association and has been since 1992, taking over as chairman in 1995 and was instrumental in removing a number of ineffective managing agents and along with his fellow RMC Directors has self-managed the Worthing estate since 2001 saving on agent's fees, which has enabled them to spend more on the block itself.
Bob was also responsible for challenging the RMC lease with the freeholder on building insurance and as a result they are now free to purchase their own policy. Their residents' association is formally recognised by the local authorities for consultations by West Sussex County Council and the Borough Council, as well as other public organisations and includes being a statutory consultee for Licensing and Planning applications.
Bob was first elected to Worthing Borough Council in 2002, and has served as the Cabinet Member with responsibility for Planning and Economic Development during 2003/4 and spent 12 years as a West Sussex County Councillor before retiring in 2021 to spend more time on Leasehold Reform.
He brings with him experience of a medium-sized block adding to the diversity of the committee's experience and advises members on Local Government issues as well as Health and Safety and is working with the Home Office of the new regulations proposed by changes to the fire safety legislation.
Bob represented the FPRA on the working group that produced the Fire Safety Guidance for blocks of flats which is being revised to reflect recent changes in the Fire Safety Act 2021.
Bob is currently a member of the Commonhold Council and represents the residents voice on the Health & Safety Executive and Building Safety Alliance.
Bob can be contacted personally by e-mail at Bob@fpra.org.uk.