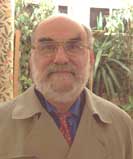 Dick Williams has been a valuable member of the FPRA's Committee since 1991, dutifully attending conferences on our behalf and answering members' queries, before being elevated to the position of vice-chairman.
Dick is a solicitor by profession. He was born in Liverpool and spent his childhood in Berkshire and Devon before coming to London to study law. He now runs his own firm and specialises in taxation and agriculture which means dealing with tax planning and trusts. Like all people running their own businesses, work takes up far too much of his time, and he finds it difficult to give himself holidays.
He lives in a very large block of 520 flats in West London, where he has been since 1983. He was one of the prime movers during the difficult years when the tenants were struggling to buy the freehold company. He is now a director of the freehold company. He feels that the legal and tax system should recognise the special characteristics of leasehold controlled freehold companies. At present, management is made too complicated by laws designed to protect investors and tenants from unscrupulous financiers and landlords.
Dick enjoys good food and wine, and makes frequent forays to the cinema and theatre. Modest yet forceful, friendly yet unrevealing about himself, Dick is always prepared to listen, one of the most important characteristics of a good solicitor.