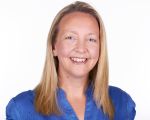 Jo-Anne is a fellow of the Institute of Chartered Accountants in England & Wales (ICAEW), a registered Statutory Auditor, and partner of Kreston Reeves LLP. She is based in the firm's Worthing office although she has a diverse mix of clients spread across the UK.
Jo-Anne has extensive company accounts and audit experience, and her additional areas of specialist knowledge include advising and auditing residential service charge entities, the legal sector, and occupational pension schemes. Jo heads up a specialist team who look after a large portfolio of blocks of flats/leasehold properties, and residential property management companies. Together with the application of the general requirements of the Companies Act, generally accepted accounting practice (GAAP), corporation tax and trust tax, the team's main frame of reference is the ICAEW's Technical Release 03/11 "Residential Service Charge Accounts – Guidance on Accounting in relation to service charge accounts for residential properties on which variable service charges are paid in accordance with a lease or tenancy agreement".
As a firm, Kreston Reeves offers a broad range of accounting, tax, wealth management and business advisory skills to clients across the UK and internationally. Since the firm started out over 100 years ago, its core aim is to remain committed to setting the standard for business, wealth and tax advice, and offering services built on an integrated foundation of in-depth expertise and industry knowledge.
www.krestonreeves.com
Outside of work, Jo has many interests most of which are creative. This includes lampworking, stained glass, and more recently learning to play the ukulele and the banjolele!