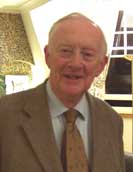 Lord Coleraine, born 1931, is an hereditary peer who has served as an honorary consultant to FPRA since 1993.
He was educated at Eton and Trinity College, Oxford and practised for many years as a solicitor, acting for private clients in commercial and property matters. He entered the House of Lords in 1981 and has devoted a considerable part of his time to legislation in the field of landlord and tenant law, leasehold reform and other aspects of property law, until expelled by the House of Lords Act 1999.
He introduced the Law Commission's Bill to make it a statutory duty for landlords to deal without delay, with applications for consent to assign leases; the resulting Landlord and Tenant Act 1988 was one of the comparatively rare private members' Acts of Parliament to have started life in the House of Lords. He has always considered that the law should deal even-handedly with landlords and tenants and has introduced or supported legislative reforms in the interest of both.
Lord Coleraine shared the opinion of many central London Conservative MPs that the government's final proposals for flat enfranchisement in the Housing and Urban Development Bill 1993 fell short of what a balanced enfranchisement Bill should provide. He was a leading member of the small group which sought to have the Bill made more useful for flat-owners in mansion blocks outside central London. He strongly pressed the claim that all qualifying flat-owners should have the right to lease extensions as an alternative to collective enfranchisement. He warmly welcomed the government's hard- won concession of this point in the House of Lords. A small but significant achievement was Lord Coleraine's final amendment which persuaded the government to accept the addition of the words "Leasehold Reform" before "Housing and Urban Development" in the title of the Bill. Although this was no more than a symbolic change, it immediately made the legislation more accessible to those who wanted to use it.
Lord Coleraine is himself a leaseholder in a block of flats in central London where the residents have purchased the freehold. He has considerable experience of the problems which may go with the satisfaction of managing flats in the interests of the lessees alone. Lord Coleraine enjoys writing, food, drink and opera.