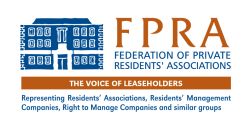 29th September 2019
By Email To:- AffordableHomesProgramme@communities.gov.uk
Dear Sirs
New national model for shared ownership
This response to your consultation is on behalf of The Federation of Private Residents' Associations, which as far as we know, is the only national body that represents the voice of leaseholders in England and Wales. We have over 500 member associations representing tens of thousands of individual leaseholders.
We have a committee of over 30 volunteers and this response has been drafted using their expertise in addition.
This consultation refers to improvements to the stair casing mechanism for leaseholders to progress towards 100% ownership of their flats.
Whilst an improvement to this process is welcomed, our concern is not the process but the misnaming of the system as 'shared ownership'
• Leasehold is not ownership it is long term renting for a fixed number of years.
• The term 'shared ownership' to refer to leasehold is misleading as leasehold is not ownership
The leaseholder in a 'shared ownership' scheme is listed at the Land Registry as the Proprietor of that flat.
The 'sharer' usually a Housing Association is listed at the Land Registry as the Head Lessee. The service charge goes from the Freeholder to the Head Lessee who bills the leaseholder for the whole amount plus their charges if applicable. The leaseholder pays an amount to the head lessee reflecting the share of the money put forward by the Association to complete the purchase price of the flat. The shared ownership is in fact the shared purchase price not the shared ownership. A leasehold flat cannot be 'owned'.
The 'shared ownership' leaseholder is the proprietor of the flat, not the part proprietor
FPRA proposes that potential purchasers be made aware they are liable for the whole service charge to the flat and the share that they are purchasing is not a share of the leasehold but a share of its cost.
The term shared ownership should be changed to 'shared purchase'.
We would be willing to work with you and others in the sector to take this process forward.
Bob Smytherman
FPRA Voluntary Chairman