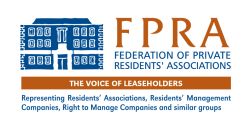 MHCLG
3rd Floor, South East Fry Building
2 Marsham Street
London
SW1P 4DF
planningforthefuture@communities.gov.uk
21st October 2020
Dear Sir / Madam
Planning for the Future – Consultation on proposals for reform of the planning system in England
Thank you for the opportunity to comment on the above white paper.
This response to your consultation is on behalf of The Federation of Private Residents' Associations, which as far as we know, is the only national body that represents the voice of leaseholders in England and Wales. We have over 400 member associations representing tens of thousands of individual leaseholders.
This response has been done so based on our regular daily contact with our members who inform us of the problems they encounter in the leasehold sector.
We have a committee of over 30 volunteers and this response has been drafted using their expertise in addition.
The Federation supports the general view that the planning system warrants modernisation to make it speedier, more efficient, and digital.
The overarching views of members was however that the white paper favours construction over communities and development over democracy and we also have significant concerns around the latest planning changes that allow extra storeys to be constructed on properties without planning permission.
It seeks to centralise power (via the standard method, Local Plan templates, national development management policies, etc) and by doing so rejects localism and belief in the principle that locally elected members, planning officers and residents know what is best for and should have a full and proper say in what happens to their areas.
It fails to consider in any sufficient detail many of the other factors that help to create genuinely desirable and sustainable communities, such as supporting infrastructure, climate change, affordable housing, and accessible/adaptable homes.
Forewords and Introduction
The FPRA recognises many of the criticisms of the planning system contained in the forewords by the Prime Minister and Secretary of State. We would point out however that the behaviour and decisions of planning officers and local councillors is principally informed by existing planning legislation, adopted policies, material considerations and case law. The frustrations that arise are as much to do with the fact that decisions are being taken in accordance with the existing system. We therefore agree that there is scope for change.
Proposal 1
The FPRA rejects the proposal that Local Plans can be simplified by the introduction of a zoning approach. It is an oversimplification of a complex on-the-ground reality. At present Local Plans are able to specifically allocate land for housing, employment, retail, etc, to protect land for its green belt, environment or heritage value and to have 'white land' that can be developed in accordance with generic policies. The introduction of growth areas and renewal areas introduces a worrying free-for-all approach that allows whatever type of development the landowner considers is most profitable to be pursued.
The suggestion that growth areas and perhaps even renewal areas would grant automatic permission-in-principle would delete a vital part of the democratic process that occurs at planning application stage.
Proposal 2
The FPRA supports the principle that some development management policies can be established at national level, leaving Local Plans free to focus on local issues.
Proposal 3
The FPRA supports the principle that Local Plans should be subject to a single statutory sustainable development test. It is true that the existing tests of soundness are a notable hurdle and require significant investment in legal advice and sustainability appraisal evidence. We agree that there should continue to be some consideration of the sustainability merits and level of cross-boundary cooperation of the submitted plan.
The deletion of duty to cooperate in advance of a clear devolution strategy appears inherently risky.
Proposal 4
The FPRA welcomes some of the proposed changes to the standard method, notably that it will use latest ONS population and household projections, that it will take account of the number of homes already in an area and that it will consider local constraints.
The FPRA is however concerned about some of the other proposed changes, notably the removal of the 40% affordability cap, which could have the effect of increasing the housing targets when there are many other local constraints.
The FPRA also opposes the proposal that the standard method be binding on local plans and when determining planning applications. Our understanding is that ONS population and household projections can sometimes contain mistaken assumptions and can vary significantly. These figures should therefore be subject to some form of scrutiny.
We would encourage MHCLG to recognise that ONS population and household projections are prepared every two years, which will presumably lead to an update of the standard method. The Planning white paper proposes that new Local Plans should be prepared within a strict 30-month time period.
Proposal 5
The FPRA has fundamental objections to the proposal that growth areas and perhaps even renewal areas would grant automatic permission-in-principle. This would delete a vital part of the democratic process that occurs at planning application stage. It means that anyone who would otherwise be consulted and have the opportunity to make comments and speak at planning committee would instead have to involve themselves in the preparation of the Local Plan and design codes potentially many years before the development was progressed.
The concept of growth areas and permission-in-principle also completely disregards the reality that the pre-application and planning application stages of the existing planning system are used to solve many technical problems and to allow local councils and members of the public to comment as a development site is progressed from concept, to proposals, to construction. The planning system plays an important community mediation role. It allows everyone to have their say regardless of their position of influence within the community. It ensures that all relevant matters have been taken into account before a decision is made. Items that go to a planning committee also demonstrate in a very public way that democratic transparency and accountability is occurring.
Proposal 6
The FPRA strongly supports the greater use of digital technology within the planning system. It is not unreasonable to claim that it is an analogue system in a digital age. However, the use of technology does not solve every problem. People often learn about local development via parish council noticeboards and they may not be looking online or social media. The ability of local planning authorities to adopt new technology for consultation and plan production needs further understanding to ensure this is adequately resourced and to ensure that it reaches all in the community.
The FPRA also considers that emphasis on a firm deadline for determining applications within 8 or 13 weeks may well lead to more refusals. The ability to agree extensions with an applicant allows planning officers more time to resolve any issues that have arisen during the consultation and consideration stage, in order that a positive and correct decision can be made.
Proposal 7
The FPRA supports the proposal that Local Plans should be standardised, based on digital technology and more visual and map based. We look forward to IT systems being developed by the Government to allow this to be achieved. We would encourage that these IT systems be developed in partnership with local planning authorities rather than simply handing the work to private sector PlanTech firms.
Proposal 8
The FPRA opposes the introduction of statutory timetables for the preparation of Local Plans. It is absurd to believe that every new plan in the country can be prepared within a 30-month period and to penalise those local councils who cannot achieve such a challenging timetable. It is even more absurd to believe that the full evidence base and selection of growth/renewal/protection areas can be achieved in a 6-month period. This cursory level of investigation and analysis achievable within this timeframe would almost certainly be open to challenge, either by landowners whose sites are not zoned or by communities who oppose the zoning of sites in their area. The 30-month period fails to take any account of the timescales needed to prepare reports, brief local councils and present them to planning committees, cabinets and meetings. It relies on an equally cursory approach from a planning inspector undertaking the examination. It feels wholly unrealistic, unless evidence can be sparse, engagement can be limited, and officer delegated powers can be expanded.
Proposal 9
The FPRA would simply observe at this stage that town/parish councils do not always have the resources or ability to prepare neighbourhood plans.
Proposal 10
This is a very welcome proposal. The white paper places the full blame of low housing delivery on the planning system and all of its efforts on changing the system to increase the pace at which plans are prepared and decisions are made. It is our understanding however that Councils have granted permission for more homes than have been built.
We would like to see future legislation to do much more to force landowners and developers to actually bring their sites forward once they have planning permission.
Proposal 11
The FPRA supports the principle of design guidance and design codes to improve the quality of development. Design can be remarkably subjective. It will be interesting to see what types of design and architecture are provably popular and popularly endorsed and whether these align with the aspirations of the landowner/developer. It is important to point out however that objectors to schemes often oppose them for fundamental reasons such as the loss of open space, the threat of additional traffic and congestion, the change to the character of the area, the capacity of local schools and GP surgeries, etc. The quality of design is secondary. It is therefore unlikely that people will suddenly become more supportive of the principle of development simply because a design code tells them what it will look like.
Proposal 12
A body to support the delivery of popular local design codes is welcomed given the volume of work that this will probably entail.
Proposal 13
We welcome any Homes England support to help deliver beautiful places.
Proposal 14
The FPRA is concerned by the proposal. Development is about much more than just beauty. A scheme should not be fast-tracked just because it is deemed to be beautiful if it has other fundamental flaws.
Proposal 15
The FPRA supports this proposal as we have declared a climate change emergency but would like to see much more detail in future legislation and changes to the NPPF.
Proposal 16
The FPRA recognises that sustainability appraisals and habitats assessments are an expensive and time-consuming part of the current Local Plan system and that environmental impact assessments can be equally costly and burdensome for major applicants. We support the principle of a quicker and simpler framework to assess environmental impacts and benefits, but we are doubtful that these processes can be successfully replaced by national and local data.
This proposal needs far more careful thought about how specifically prepared documents that analyse the particular circumstances of a plan or development proposal can be successfully replaced by data. Decisions sometimes need to be based on a careful weighing-up of policy, facts, evidence and opinions and cannot be quantified or binary.
Proposal 17
The FPRA supports all efforts to conserve and enhance historic buildings and areas. We would query whether it is expected that Local Plans should identify all such assets or whether they should simply be zoned as protection areas.
Proposal 18
The FPRA supports all efforts to facilitate improvements in the energy efficiency of buildings. We have declared a climate change emergency and are currently identifying policies and actions that can be implemented at a local level to help solve this global problem. We see considerable merit in standards being incorporated into building regulations as this has a better chance of ensuring they are achieved via the design and fabric of the building.
Proposal 19
The FPRA recognises that Section 106 negotiations are a major factor in the time it takes to determine planning applications. It is unclear how this will take account of local viability issues. It is not yet explained how the value of the development will be calculated. It undoes the current emphasis on the identification of projects that are directly related to the development, appropriate in scale and kind and necessary to make the development acceptable in planning terms. It could leave many projects unfunded and many developments unsupported by the infrastructure they need to be genuinely desirable and sustainable.
Proposal 20
The FPRA supports the principle that the Infrastructure Levy could be extended to capture changes of use through permitted development rights.
Proposal 21
The FPRA is deeply concerned by the proposal that affordable housing provision should be incorporated into the reformed Infrastructure Levy. This policy approach delivered 49% of the country's affordable housing in 2019 and secured another £4.7 billion for off-site provision.
The inclusion of affordable housing within a levy immediately reduces its importance and puts it on a par with all other infrastructure requirements.
It appears to rely on the Council being involved in every development, to specify the forms and tenure of affordable homes, to ensure that a nominated affordable housing provider takes them on, to consider whether to flip the product back to market units in the event of a market fall, etc.
It is not in any way clear how this proposal will incentivise developers to build on-site affordable housing. In some cases, particularly greenfield sites, developers are keen to make off-site provision in order that their market units remain exclusive.
Proposal 22
Although the FPRA welcomes the principle of freedom to decide how to spend income from the Infrastructure Levy, in practice this could leave Councils with a large pot of money that must be spent and distributed in liaison with partners and that such choice will inevitably influenced by wider financial and political considerations, and could leave some projects unfunded, to the detriment of nearby development. It is particularly concerning that some councils might choose to spend their levy on reducing council tax bills rather than improving infrastructure.
Proposal 23
The words in the consultation document that the proposed changes will free-up planners to focus on creating great communities are welcomed. The changes will however require council planning departments to grow and reallocate it resources and develop new skills. Most notably it could require a sizeable shift of resources away from development management teams if more schemes are delivered via permission-in-principle and into policy teams to help prepare new local plans and design codes. It is welcomed that a small proportion of the Infrastructure Levy could be used for this purpose.
Proposal 24
The FPRA welcomes proposals to strengthen enforcement powers and sanctions. At present enforcement is a non-statutory but expected public service and one that can create significant local tension where a breach has occurred but many Councils do not have the legislative ability or resources to quickly and successfully resolve the problem.
Other comments
The white paper makes favourable references and comparisons to Germany, Italy and the Netherlands, but it should be recognised that they have much lower population densities than this country and are far less concentrated on their capital cities. The Government should therefore give more thought to redistributing housing development away from the south-east, especially as coronavirus could weaken London's pull as an employment market.
Recommendations for Planning System
FPRA would like to offer the following views on the best structure for a modernised system:
 Scope for planning applications to be advertised via websites and social media, instead of notifications on lampposts.
 A national IT system, similar to the Planning Portal, for consistently presented Local Plan policies and Local Plan proposals maps.
 A list of national development management policies that councils can choose to adopt as drafted or enhance as they see fit.
 A simplified test of soundness process for Local Plans.
 A simplified evidence base for Local Plans.
 A simplified process to evidence long-term infrastructure provision for Local Plans.
 A simplified sustainability appraisal process for planning applications.
 Greater emphasis on strategic cooperation to replace duty to cooperate.
 A more reasonable timescale for the preparation of Local Plans.
 More scrutiny of the consistency of Local Plan inspectors when carrying out public exanimations.
 Scope for Local Plans to allocate permission-in-principle sites where they are confident, they have good knowledge of the sites, its constraints and opportunities.
 Scope for reserved matters applications associated with permission-in-principle sites to be consulted on and presented to planning committee for determination by elected Councillors.
 Affordable housing threshold set at whatever level is appropriate for that council area.
Yours sincerely
Bob Smytherman
Honorary Chairman