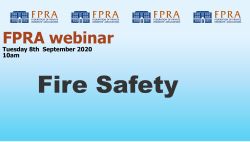 Ask the FPRA Webinar : Fire Safety
9th September 2020
 Survey
11th September 2020
Dear Member,
Thank you for joining us for our second members' only Webinar on the topical subject of Fire Safety.
To help us offer the best possible content we would really appreciate your honest feedback and constructive criticism by completing the survey below.
These Webinars are not intended to replace any of our members services and designed to compliment our offer and retain members as well as attracting new ones with our enhanced members website as we build these up over time.
Can I thank our Hon. Consultant Jonathan Gough for answering all your questions so thoughtfully including many supplementary questions both on the day and afterwards and to our Admin team for ensuring the technical aspects worked on the day and keeping me to time!
Our next subject will be Insurance but please let us know what other topics you would like us to cover?
Many thanks
Bob Smytherman
Hon Chairman