Filming The Zetland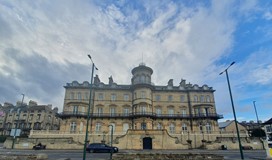 The Zetland building in Saltburn-by-the-sea is perched on  the north-east coast of England. It is a building with over 150 years of history and formerly a Railway Hotel, with its own mainline railway platform. The platform allowed hotel guests to travel straight from the train carriage into the Hotel.  In the 1980's, the building was sold and converted into 31 leasehold flats. The building retained some of its original features including ornate plasterwork.
The historical significance of the building has made it a desirable building to film for television programmes.  This demand poses a challenge for the building management company,  given the need to positively market the building and the need to ensure that the building functions for its residents.
In January 2021, Brown Bob Productions contacted the management company through a local councillor regarding potential filming for the programme ' The Architecture Railways Built with Tim Dunn.'  The Zetland's board of directors has a decision-making structure in place. This meant that to approve the filming, at least 3 of the directors had to agree.  After discussion with the production company and with the directors, the decision was taken to approve filming with the key proviso that a member of the management company was present throughout. This requirement meant that if there were any queries from residents or the production company, they could be easily serviced without delays or  potential risks to the resident's. The management company also ensured that a written agreement was in place for the filming.
The filming started with an interview outside the building, which took approximately an hour and included numerous takes. Importantly, doing the interview outside meant that the disruption to residents was kept to a minimum.  The filming then followed myself and the presenter, Tim Dunn, walking through the building up to the 3rd floor, where access had to be arranged into one of the prime apartments.  The filming took a total of 3 hours and throughout there were a few questions from residents, mainly related to enquiries about what was happening.
The programme was broadcast on the 'Yesterday' channel on Monday 11th October 2021 and is available on UKTV Play, ' The Architecture Railways Built with Tim Dunn – Season 3 Episode 5.'
UK TV-Play button for above >>
Ross Weddell
FPRA director