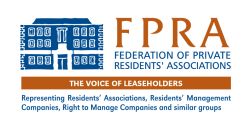 Dear Member,
Please see below the following advice from one of our FPRA consultants.
NOTICE ABOUT SELF ISOLATION AND CORONAVIRUS (COVID-19)
Coronavirus is a national government matter beyond our remit – however, we feel that it may be helpful to address the concern of those living in homes that we manage, especially as people may be at home with the virus self isolating.
Therefore, we are sharing steps that will be taken if information is shared with us that there is a suspected case within the building.
Firstly and foremost we advise all residents to follow the official advice from Public Health England:
https://www.gov.uk/guidance/coronavirus-covid-19-information-for-the-public
and the NHS:
https://www.nhs.uk/conditions/coronavirus-covid-19/
If a member of your household is in self isolation as a result of the government guidance then please notify your Property Manager as soon as possible.
If you live in a block of flats, it may be the case that we are required to inform other residents in order that they are aware.  The government could require us to do so, or the Client/Directors of the Management Company could require us to do so.
If you are in self isolation, it is important that contractors or other non-family members are not invited into your home for the entire duration of your period of self isolation.
If you live in a block of flats and there was a confirmed case in your building, your Property Manager will take guidance from Public Health England as to required actions. This may include a deep clean of the communal areas of the building.  As unbudgeted expenditure reserve funds may need to be spent to achieve this.   By letting your Property Manager know he or she can share this with the Client/Committee on site to ensure that should a self isolating person be isolating at home, the community in the block come together to ensure they have the food and toiletries they need – and do not need to go out and breach their isolation.
As things stand, there is no requirement for any residents to vacate a building in the event of a resident of another flat contracting the virus, but again we will be guided by Public Health England at all times.
If you are NOT an owner occupier, you SHOULD to provide this information to your tenant.
[6th March 2020]