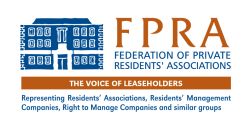 "Ask the FPRA" Webinar page
Thank you for your interest in viewing the FPRA webinars. The recent Q&A session  "Ask the FPRA" is now available online and FREE to watch for non-members.  It's approximately 45 mins long and covers many generic questions.
As a member, other webinars are available covering a variety of topics.  The recorded webinars include:
Ask the FPRA: Right to Manage webinar
Ask the FPRA: Insurance  webinar
Ask the FPRA : Fire Safety webinar
Ask the FPRA : Property Management webinar
Ask the FPRA : Your Parking Questions Answered
Ask the FPRA : Retirement webinar  including communal  areas/ retirement blocks & villages
Ask the FPRA & Fixflo: Summer Checklist for your Block
Ask the FPRA & Franklin Energy: Electric Vehicle charging
"A Residents' voice" – organised by FixFlo with FPRA
Ask the FPRA: General Legal 
Further information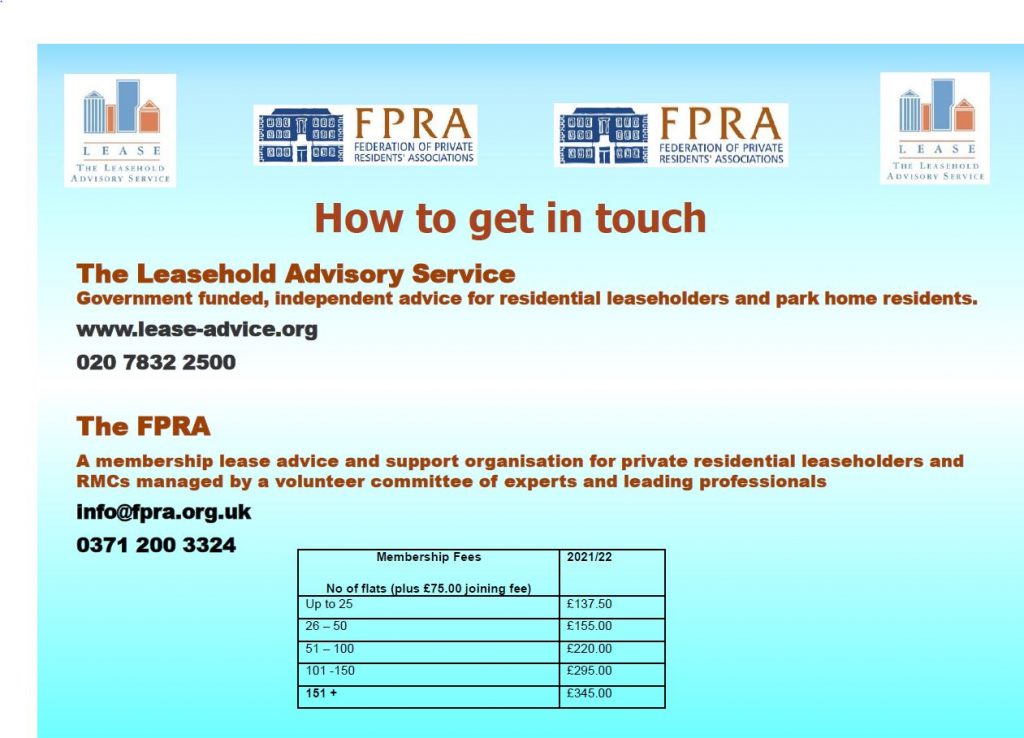 Ask the FPRA (Q&A session for non-members)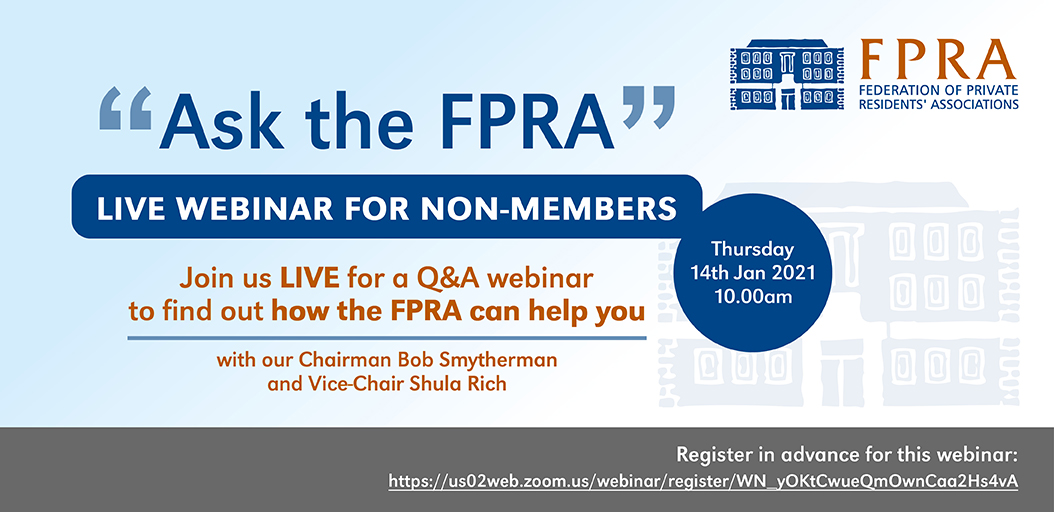 Now available to view online….
Some reasons to consider joining the FPRA…
The FPRA is geared to help long leaseholders throughout England and Wales, which we achieve by helping them form Residents' Associations or to help them secure the management of their blocks, or to buy the freehold of their blocks.
In our 45 plus years of providing independent and impartial advice, our experience shows that the best way to deal with problems within blocks/estates is by getting together with neighbours to resolve problems and to collectively form a Residents' Association to deal with managing agents and freeholders.
Most problems encountered are best dealt with in conjunction with your neighbours.
We publish a guide to setting up a Residents' Association which includes draft constitutions and instructions on how to do this. This is available for £18.00 as a download from our website. This can be purchased through this website using any debit and most credit cards or Paypal.
We also publish a guide called 'Running a Block of Leasehold Flats' for £17.50 and other useful publications  (including Variation of Leases, £10.00 and Summary of Rights, £5.00)  at various costs to download, please see our  publications page.  If you require a paper copy, please let us know.
The FPRA newsletter is published quarterly and available to all members as a PDF download. A sample copy of one of our recent newsletters can be viewed here. Older issues are also available on the Newsletter page.
Once you have formed your Residents' Association, or if you have already formed a Residents' Association or similar (see below), you can become a member of the Federation and obtain access to our expert advice, plus many other benefits too, all of which are only available to our members. Further details on the Joining the FPRA page.
Membership of the Federation is open to Residents' Associations, Resident Management Companies (RMCs) Flat Management Companies, – where the lessees have purchased their freehold whether they self-manage or use an agent; Right to Manage Companies – where lessees have exercised the right to take over the management of the block, whether they self-manage or use an agent; and other groups of lessees and Commonhold Associations.
Membership of the Federation is subject to an annual fee with a once only joining fee of £75.00. The annual fee depends on the number of flats or leasehold properties on the estate and the cost is per association not per flat and is typically less than £5 per flat per annum.
| | | | |
| --- | --- | --- | --- |
| | 2021/22 | 2022/23 | 2023/24 |
| Up to 25 flats | £137.50 | £150.00 | £160.00 |
| 26 – 50 | £155.00 | £175.00 | £185.00 |
| 51 – 100 | £220.00 | £240.00 | £250.00 |
| 101 – 150 | £295.00 | £315.00 | £325.00 |
| 151+ | £345.00 | £365.00 | £375.00 |
This organisation is run by a Committee of volunteers. The best way to contact us is by email and our administration office is open Monday to Friday mornings only (.