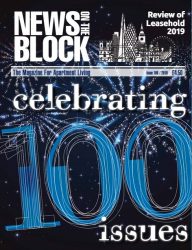 Issue 100 of News on the Block has now been published to  to read online.
News on the Block would like to take this opportunity to thank all of the contributors, advertisers and sponsors who have supported News on the Block over the last 100 issues.
This issues includes some of the following articles:
UK property deals hit by Brexit uncertainty
'Supercharged' annual seminar
How to prevent property fraud
What's next for leasehold reform?
Block management gender pay gap narrows
Do you need terrorism insurance cover?
5 ways to improve your Linkedin profile
Review of Leasehold 2019
What is the UK Apartment Association?
and more…
News on the Block  a copy of the NOTB newsletter, issue 100. to read online.