.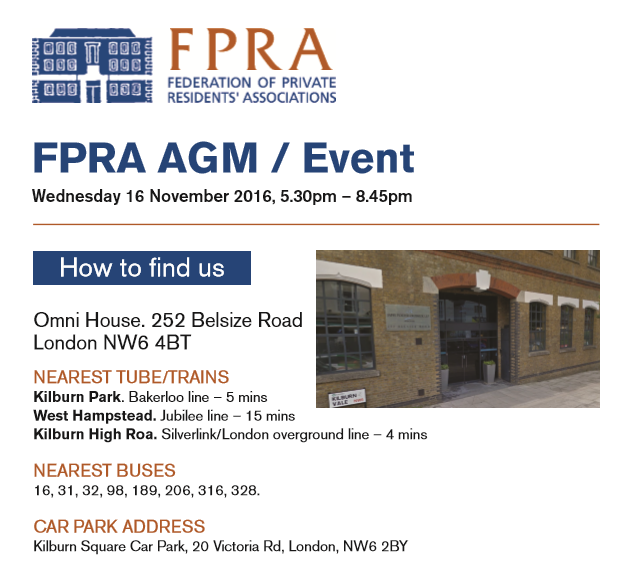 The Federation of Private Residents' Associations (FPRA) will be holding its annual event for leaseholders on:
Wednesday 16 November 2016:
5.30pm  registration
6.15pm  Welcome and speakers :
Bob Smytherman – FPRA Chairman
Tony Essien – Chief Executive of LEASE
Nigel Glen – Chief Executive of ARMA
The AGM will be held in a separate area at 7.15pm for FPRA members only.
Following the speakers, workshops on:
Buying your Freehold
Extending Your Lease
Insurance Claims
Block of Flats and other insurance arrangements
'Improving Leasehold' – discussion
These will run twice at 7.15pm and 8.15pm
Once again we will be offering 1-2-1 appointments with FPRA and Leasehold Advisory Service advisers, by pre-booked appointment only.
We will be taking bookings for appointments on a first come first served basis and you must be registered to attend the conference in order to qualify for a workshop or appointment.
Tea and Coffee will be provided. There is disabled access.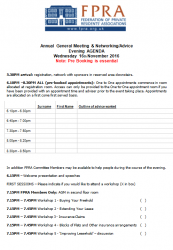 PRE-BOOKING is essential. Please download the  booking form (PDF here) print out, complete and return by post.  If preferred, there is a version of the booking form (ODT here) that can be edited after download; please also return after completion.  



Note that numbers are limited.
THIS EVENT IS FREE TO FPRA MEMBERS but Non-members are welcome for £10.00 (£10.50 Online) to help with the costs of the event. [FPRA is a non-profit organisation].
£10.00 Cheque posted to FPRA, PO Box 10271, Epping, CM16 9DB with booking form
£10.00 by Bank transfer (NatWest sort code: 60-02-08   account: 60064463   reference: AGM/your name) but please return a booking form
£10.50 Online via PayPal.  Please return the completed booking form after payment has been made.  
All payments and bookings must be received by 10 November 2016. Please remember SPACE IS LIMITED
Our mailing address is:
Federation of Private Residents' Associations Ltd
PO Box 10271
Epping, Essex
CM16 9DB
United Kingdom
Email:   info@fpra.org.uk

This event has only been possible by commercial sponsorship for which FPRA is extremely grateful.